Review
2021 Kia Soul vs. 2021 Hyundai Venue Comparison | Kelley Blue Book
The 2021 Kia Soul and the 2021 Hyundai Venue both blur the line between crossover and hatchback. Here's how they compare.
2021 Kia Soul
2021 Kia Soul Starting Price: $17,590 | Price Yours or View Listings Near You
Above Average: Optional turbo engine; lots of people space; low starting price; great warranty.
Below Average: Front-drive only; active-safety features not on the base trim.
Consensus: The 2021 Kia Soul is a funky urban runabout with engine options that include a zippy turbo.
2021 Hyundai Venue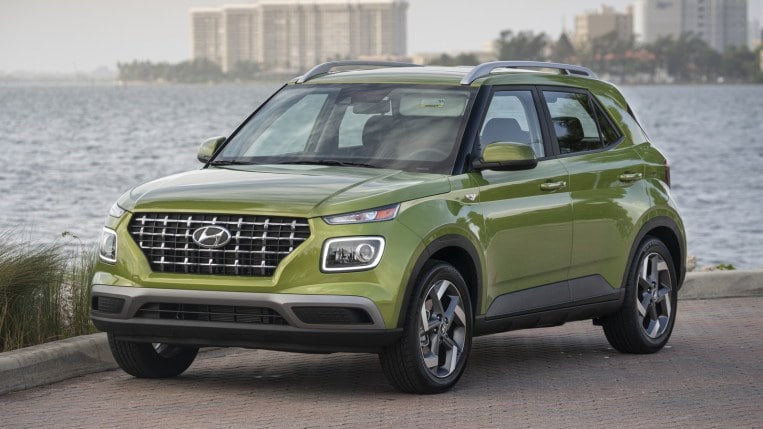 2021 Hyundai Venue Starting Price: $18,750 | Price Yours or View Listings Near You
Above Average: Value pricing; maneuverability; standard active-safety features; excellent warranty.
Below Average: Not very powerful; front-wheel drive only; limited luggage space.
Consensus: The Hyundai Venue appeals to city dwellers looking for an inexpensive and practical small SUV that fits anywhere and includes a good feature set. A long warranty and free scheduled maintenance add to the appeal, but AWD is not offered.
Soul vs. Venue: Ultra-Affordable Tall Hatchbacks
Kia Soul
Redesigned last year, the Kia Soul is now in its third generation. The boxy look might not be to everyone's taste, but it imbues the Soul with tons of passenger and cargo space. The latter is 23/62 cubic feet with the rear seatbacks up/folded. The latest Soul is more polished than previous versions, with lots of available features and an improved ride.
The top Turbo model sacrifices some ride quality for sporty handling and comes with a zippy 1.6-liter turbocharged engine and a 7-speed dual-clutch automatic transmission. With 201 horsepower on tap, the Turbo is more convincing than the pseudo-offroad X-Line, which – like all Souls – is front-wheel drive (FWD) only.
The X-Line as well as the GT-Line and the mainstream LX, S, and EX all use a 2.0-liter engine with 147 horsepower. The base LX still offers a 6-speed manual transmission, but otherwise, that engine is paired with a continuously variable transmission (CVT). EPA combined estimates are 30 or 31 mpg with the 2.0-liter/CVT, 29 mpg for the turbo, and 27 mpg for the 2.0-liter/manual.
An easy-to-use 10.25-inch touchscreen is on the EX and Turbo; other models get a 7-inch unit. Active-safety features such as forward-collision warning, blind-spot monitoring, and lane-keep assist are available on all models except the base LX.
Hyundai Venue
The 2021 Hyundai Venue is the brand's smallest and least-expensive crossover, slotting below the already-compact Kona. Its tiny footprint and tight turning circle give the Venue exceptional maneuverability, and good visibility helps make it a cinch to park. The cabin is not huge, but a tall roof and upright seating allow just enough room for adults in the back seat.
Cargo space, though, is limited with 18.7 cubic feet behind the seats and 31.9 with them folded. While there's plenty of hard plastic inside, the controls – including the standard 8-inch touchscreen – are extremely user-friendly.
The Venue's lone engine choice is a 1.6-liter 4-cylinder paired with a continuously variable transmission (CVT) and front-wheel drive. All-wheel drive (AWD) is not offered. Its 121 horsepower isn't a lot, but the CVT makes good use of what's there, and the Venue feels spry around town, less so on the highway. Fuel economy is 30 mpg city, 33 mpg highway.
The ride can be busy, but the steering is light and accurate. Forward-collision warning with pedestrian detection and automatic emergency braking is standard on all three trim levels, as is lane-keeping assist. Blind-spot warning and rear cross-traffic alert are on the upper two trims.
Similarities
Front-wheel drive only; modest horsepower; CVTs; long warranty.
2021 Kia Soul Advantages
Passenger space; turbo engine's acceleration; 5-star NHTSA safety rating; lower base price.
2021 Hyundai Venue Advantages
Standard active-safety features on all trims; 3-years free scheduled maintenance.
Which One Is Right for Me?
The 2021 Kia Soul is the obvious choice for those who need to regularly carry adults in the rear seat or who need more luggage space. And the Soul Turbo is for those who want sporty performance
If you're shopping base trims, the 2021 Hyundai Venue is well-equipped and its free maintenance offsets its slightly higher price.
Ready to buy a Kia Soul or a Hyundai Venue? Shop for one on sale now near you
| | | |
| --- | --- | --- |
| | 2021 Kia Soul | 2021 Hyundai Venue |
| Popular Powertrains | | |
| Engine | 2.0-liter I4 | 1.6-liter I4 |
| Horsepower | 147 hp @ 6,200 rpm | 121 hp @ 6,300 rpm |
| Torque | 132 lb-ft @ 4,500 rpm | 113 lb-ft @ 4,500 rpm |
| Transmission | CVT | CVT |
| Fuel Economy | 31 mpg (29 city/35 hwy) | 31 mpg (30 city/33 hwy) |
| Also Available | 1.6-liter turbo I4; 7-spd automatic; 6-spd manual | n/a |
| Specs | | |
| Warranty | 5 years/60,000 miles | 5 years/60,000 miles |
| Powertrain Warranty | 10 years/100,000 miles | 10 years/100,000 miles |
| NHTSA Overall Safety | 5 stars | 4 stars |
| Max Seating Capacity | 5 | 5 |
| Wheelbase | 102.4 inches | 99.2 inches |
| Overall Length | 165.2 inches | 159.1 inches |
| Width | 70.9 inches | 69.7 inches |
| Height | 63.0 inches | 61.6 inches |
| Turning Diameter | 34.8 feet | 33.2 feet |
| Headroom, Front | 39.4 inches | 39.4 inches |
| Headroom, Rear | 39.5 inches | 38.6 inches |
| Legroom, Front | 41.1 inches | 41.3 inches |
| Legroom, Rear | 38.8 inches | 34.3 inches |
| Shoulder Room, Front | 55.5 inches | 53.9 inches |
| Shoulder Room, Rear | 54.7 inches | 53.7 inches |
| EPA Passenger Volume | 120.9 cubic feet | 91.9 cubic feet |
| EPA Cargo Volume | 23.0/62.1 cubic feet | 18.7/31.9 cubic feet |
Source link