Motorbike
Updated Monkey Swings Into Honda's 2022 US Lineup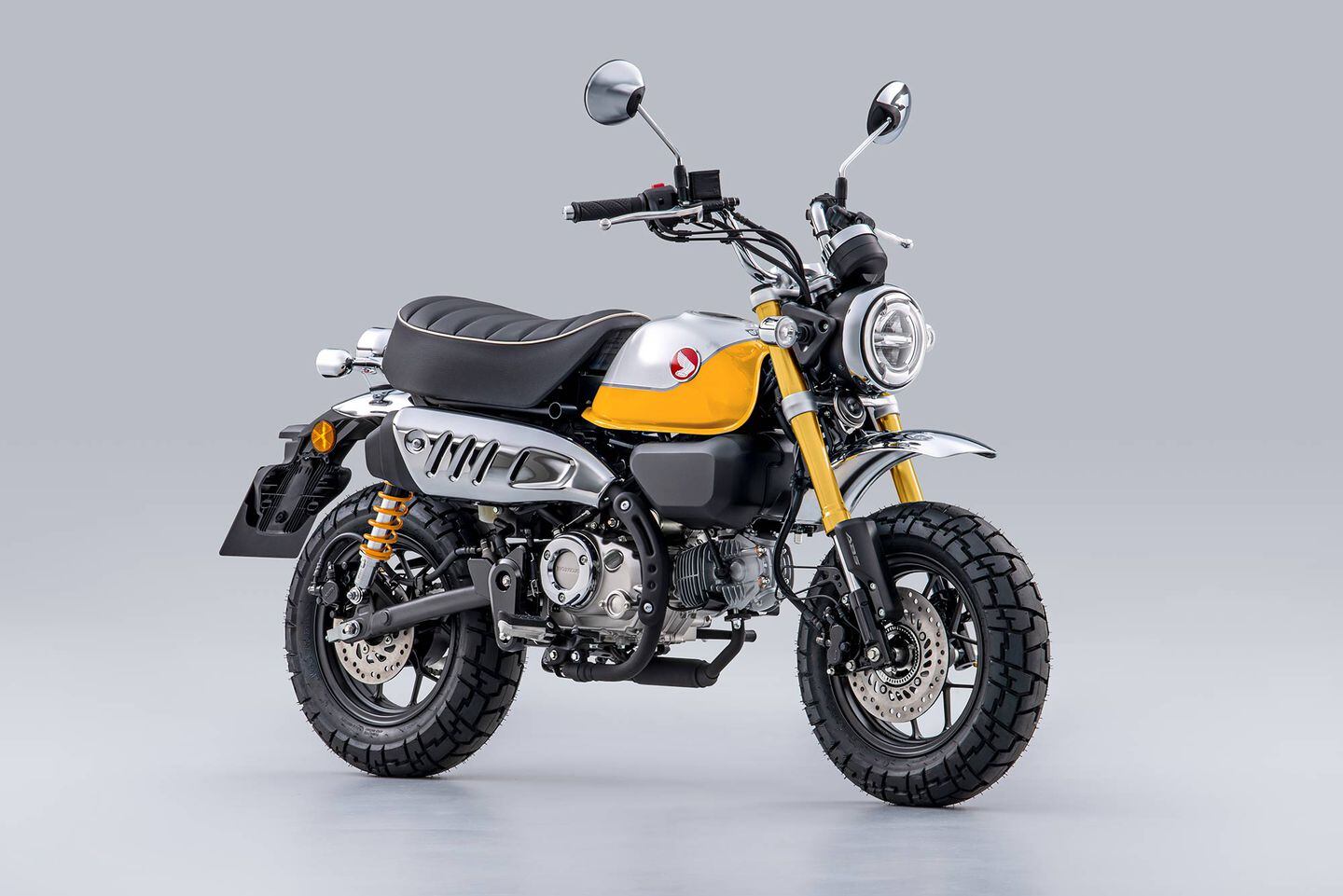 The updated Monkey gets more power and a fifth gear for 2022. (American Honda/)
Back in March, news dropped that Honda would be bringing the newly upgraded Grom to the US for 2022, but there was no mention of its cousin, the fun-loving and similarly revised Monkey 125, which had already been officially announced for European markets. Given the two bikes' similarities, we figured it was only a matter of time and sure enough—without much fanfare, by the way—last week American Honda let it be known that the Monkey would indeed be joining the Grom in its 2022 miniMoto category for the US market. Honda also subtly let it slip that its two 750cc Shadow cruisers—the Phantom and the Aero—would be returning to the lineup for 2022, both without any mechanical changes, but now wearing new colors.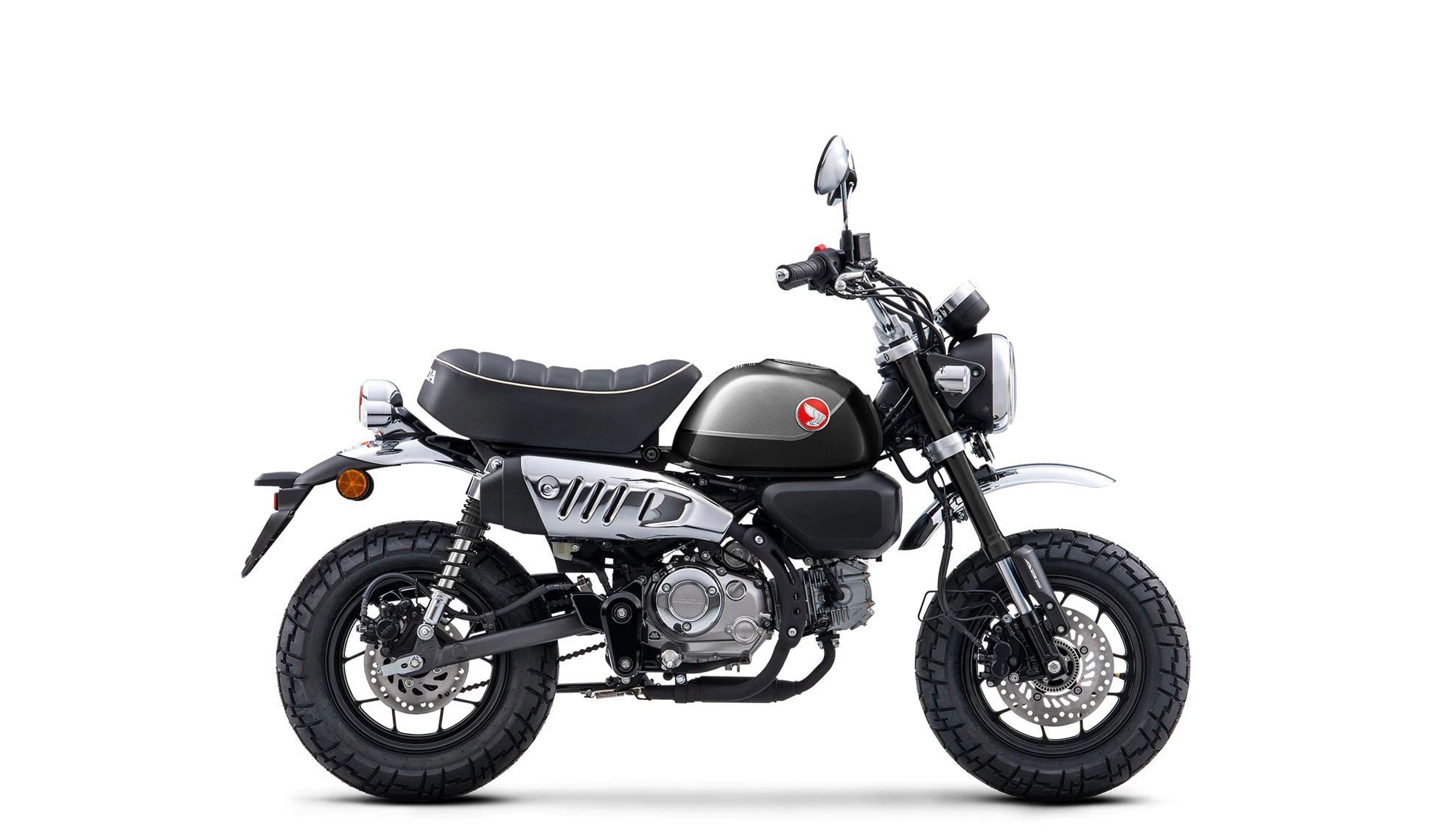 There is just one trim level, the Monkey ABS, but it's available in two color options. (American Honda/)
As expected, the 2022 Monkey gets the same changes seen on this year's Grom, which we rode earlier this year, and if Zach Bowman's gushing review of that bike is any indication, those upgrades on the Monkey will garner the same kind of stupid grins. In short, that means that for 2022 the Honda Monkey gets a mechanical refresh in the form of a new engine (same as the Grom's), with a higher 10.0:1 compression ratio to increase power to a whopping 9.7 hp and 7.7 pound-feet of torque. The 124cc two-valve overhead-cam air-cooled engine was revised with a narrower bore and longer stroke this year for more grunt lower in the rev range, and coupled with an extra gear in the transmission (now the Monkey has five speeds), a wider spread of gear ratios, and a claimed 231-pound curb weight, and you can see why peppier acceleration and increased top speed will be the likely results. Bowman's rip on the Grom last month notwithstanding, we still wanna hoon around on the new Monkey, just to be sure…
For the US however, there is only one trim available for 2022—the Monkey ABS. You do have a choice of two colors, Pearl Black and Banana Yellow, either of which will ding your wallet to the tune of $4,199 (the same price as the 2020 ABS model).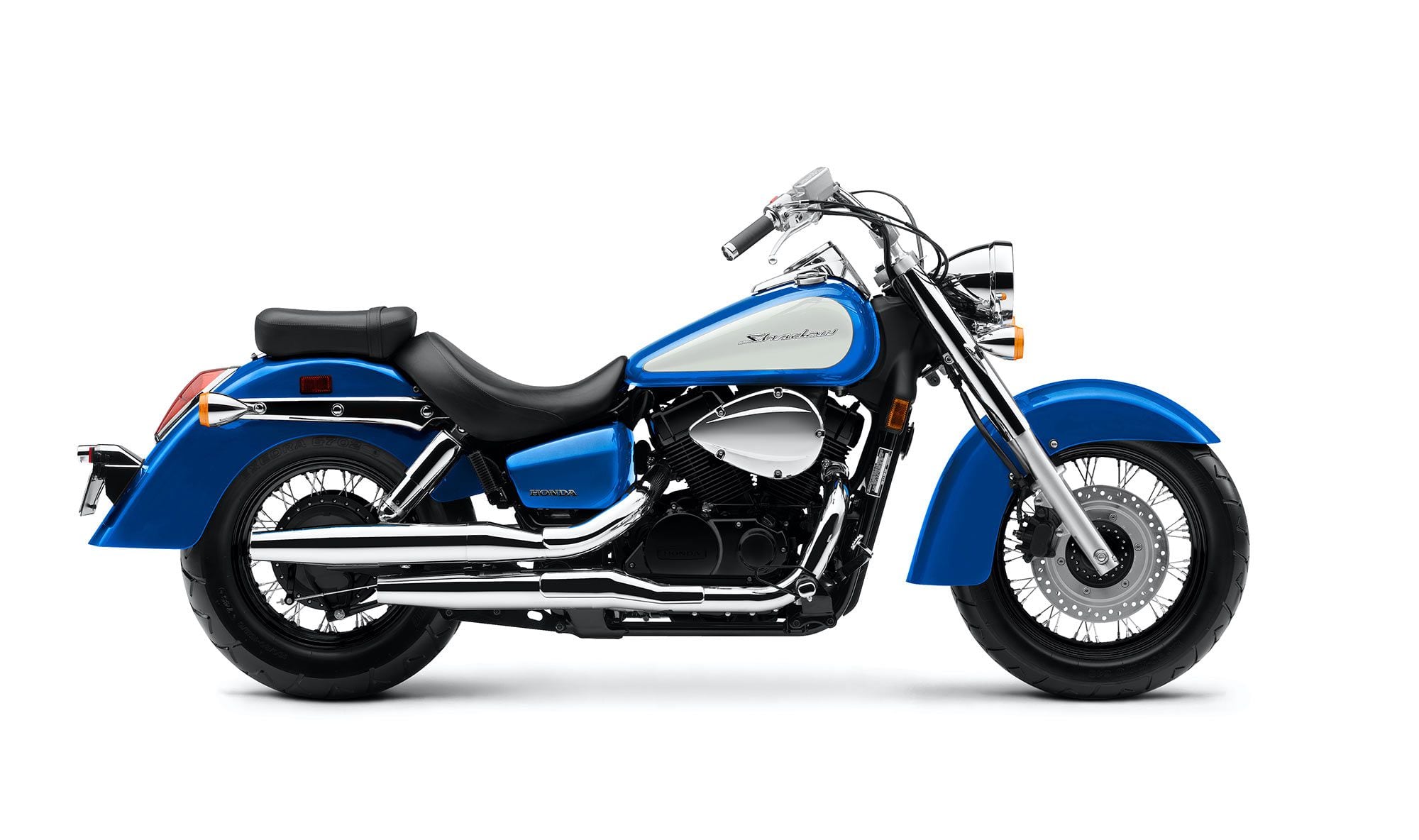 The classically styled Shadow Aero returns for 2022 unchanged. (American Honda/)
Meanwhile, the two Shadow cruisers return to Honda's 2022 lineup relatively unchanged, save for paint colors. The bikes represent two variations on traditional V-twin cruiser styling, with the Aero picking up the fuller-fendered, chrome-accented, and more classic end of the spectrum. That means the 745cc liquid-cooled V-twin with shaft final drive is bracketed by deeper fenders over the wire-spoke wheels, a wide and low handlebar, chrome-covered headlight, air cleaner, and mufflers (among other details), and a 2-into-2 dual exhaust, all topped by a wide cushy saddle, and all unchanged from last year. For 2022 you can choose between the $7,799 non-ABS base model, which offers a single 196mm disc up front and a drum brake rear, or the ABS version, which brings a 180mm disc for the rear wheel and is priced at $8,099. For both versions, the only color option in 2022 is a striking Ultra Blue Metallic.
Related: Honda Shadow Aero 750 Motorcycle Test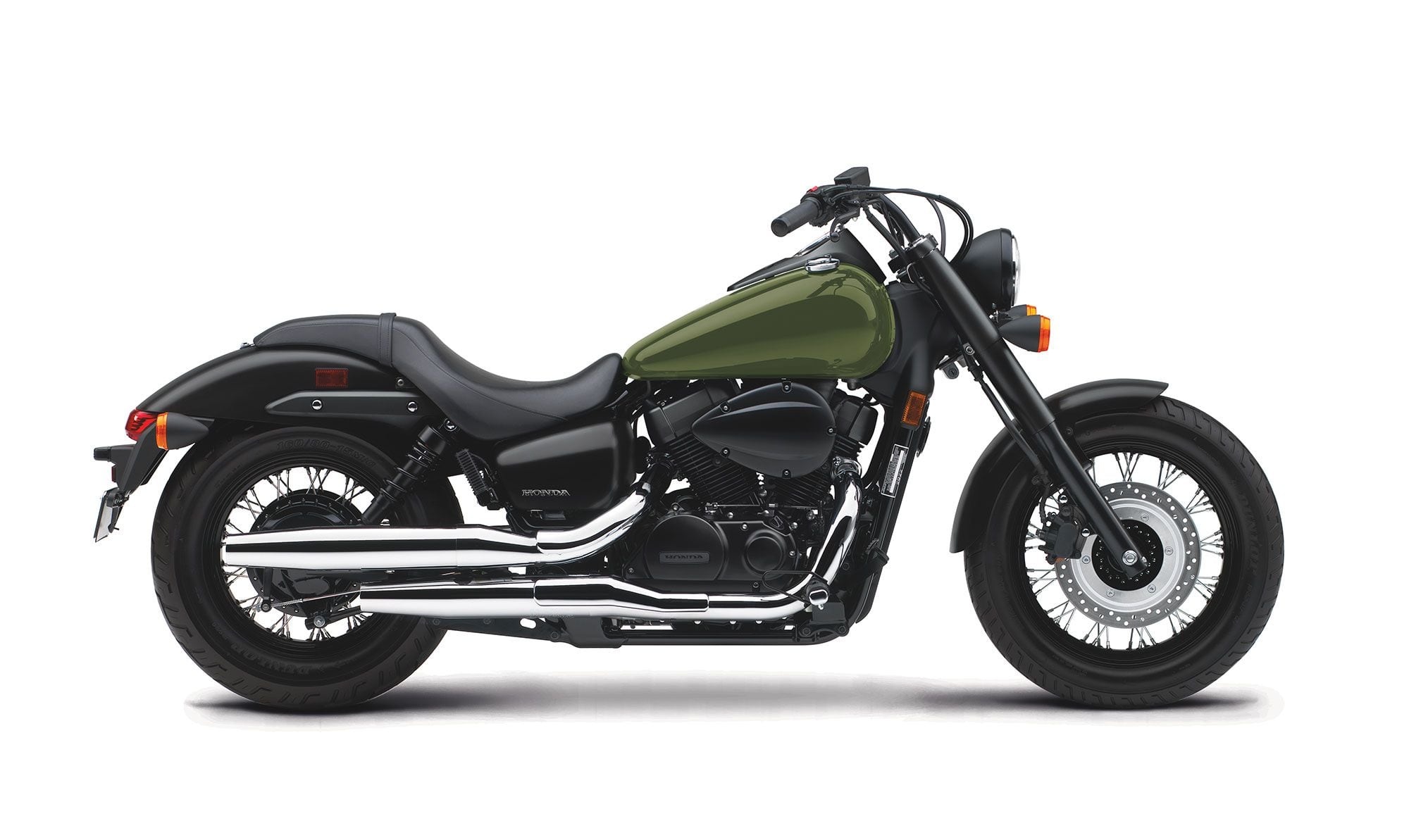 The more spartan Phantom also returns with its 745cc V-twin intact but with a new color option: Adventure Green. (American Honda/)
The Shadow Phantom runs with the same basic underpinnings as the Aero: 745cc liquid-cooled 52-degree SOHC V-twin engine with a wide-ratio five-speed transmission and shaft final drive with the same basic dimensions, though the Phantom switches things up (ever so slightly) on the styling front with a more minimal approach. That means modern cues like matte black accents on the wheels, headlight, and engine bay, shorter chopped fenders, and a sleeker one-piece gunfighter seat. There are no mechanical changes for 2022, and the less-is-more vibe extends to the trim levels; there's no ABS version of the Phantom, only a base single disc front and drum brake rear bike, which retails for $7,899. You do get two color choices for 2022, however; an interesting Adventure Green or a brooding Matte Black Metallic.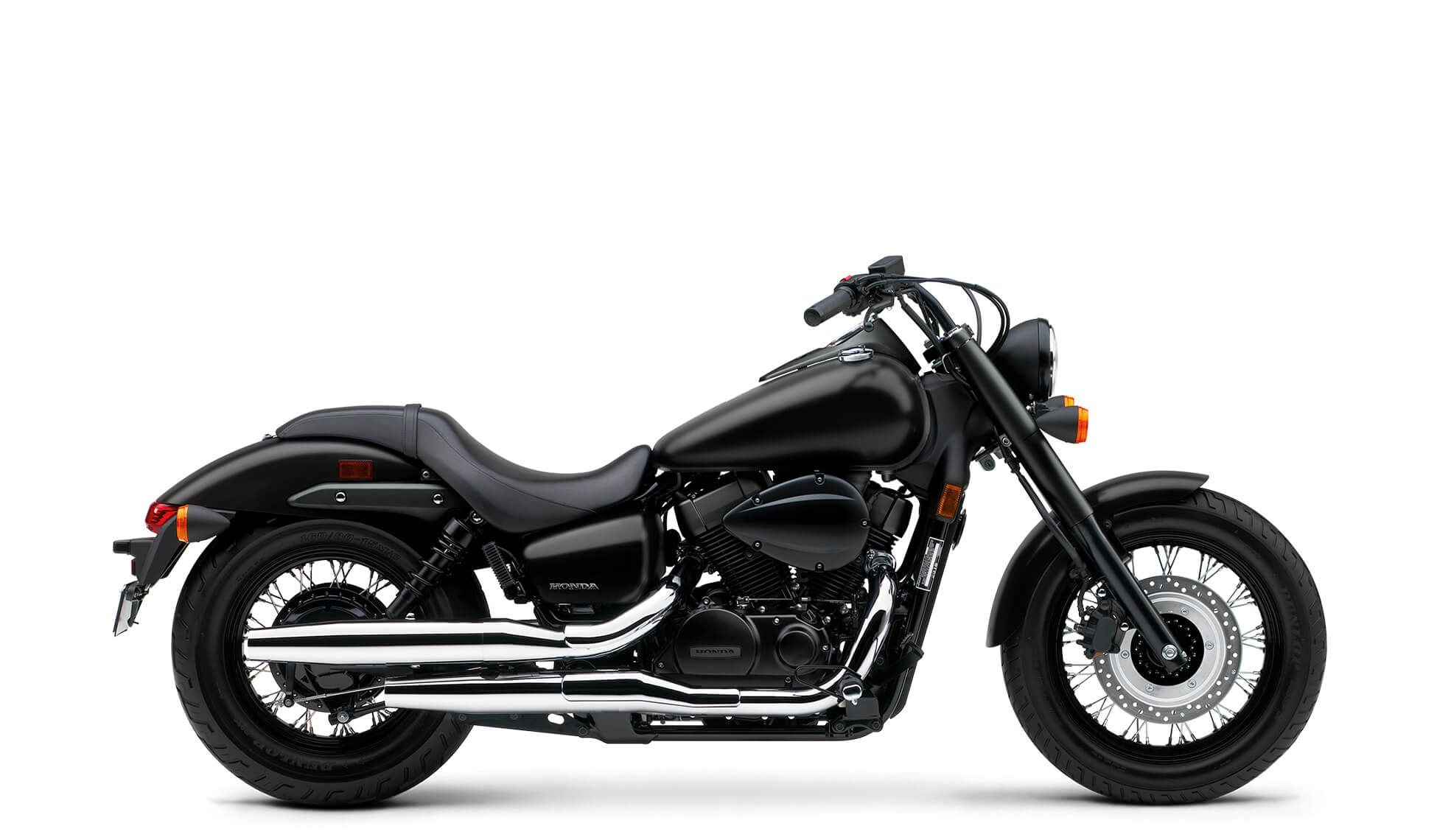 The Shadow Phantom is also available in your basic black option. (American Honda/)
Source link