Motorbike
Kyle Wyman Triumphant in Atlanta's King of the Baggers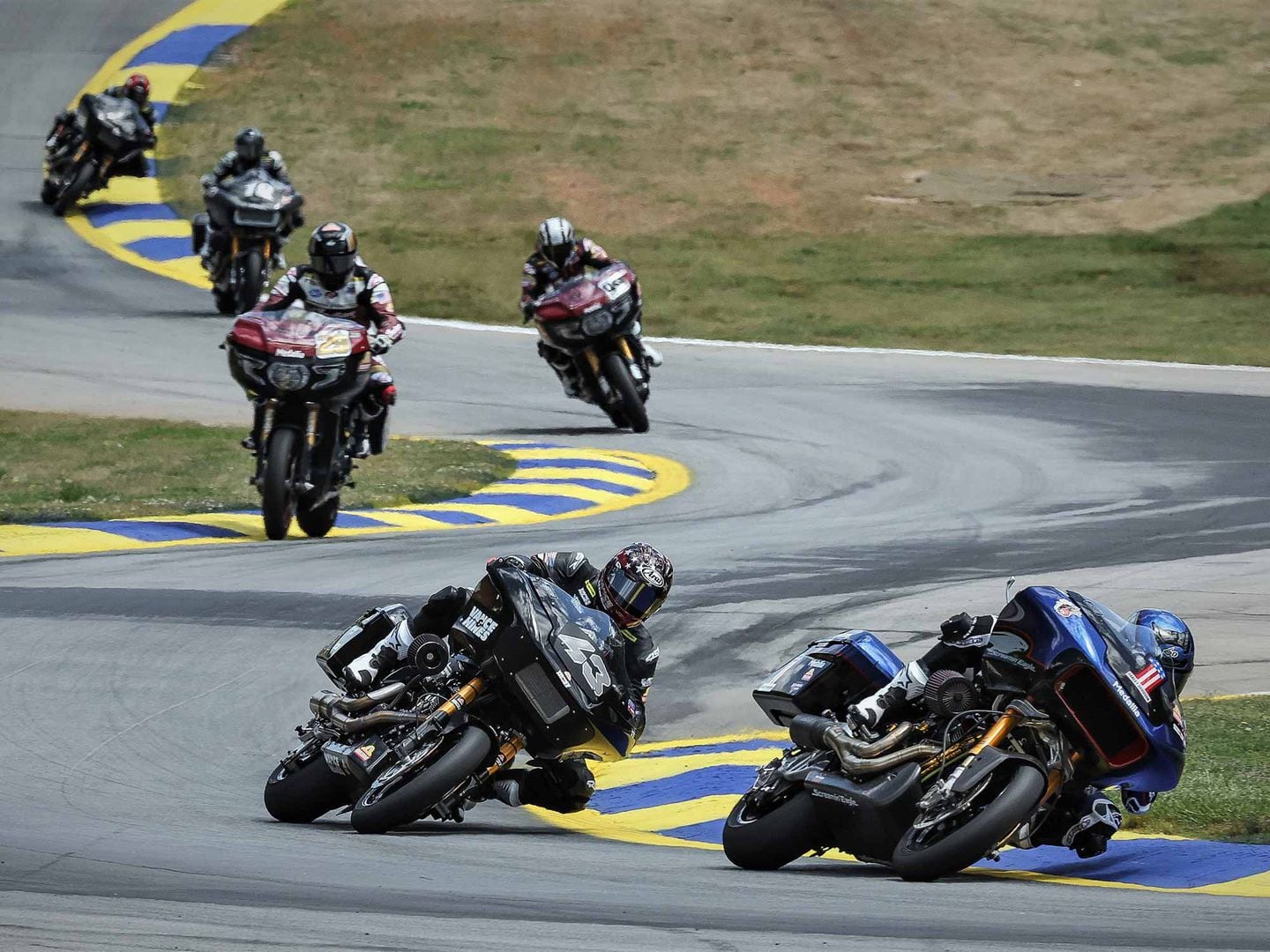 Harley's Kyle Wyman won the second round of the 2022 King of the Baggers series. (Harley-Davidson/Brian J. Nelson/)
After the thrilling season-opening doubleheader of MotoAmerica's King of the Baggers (KOTB) series in Daytona, the second round at Road Atlanta had a lot to live up to, but it proved to be no less exciting. Emerging as the winner at Road Atlanta was defending KOTB champion Harley-Davidson factory rider Kyle Wyman, who took the checkered flag aboard a race-prepped Harley Road Glide. Behind him was another Harley-mounted rider, James Rispoli, who snagged second place on the Vance & Hines H-D Road Glide.
Related: Bagger Racing Will Be Huge In 2022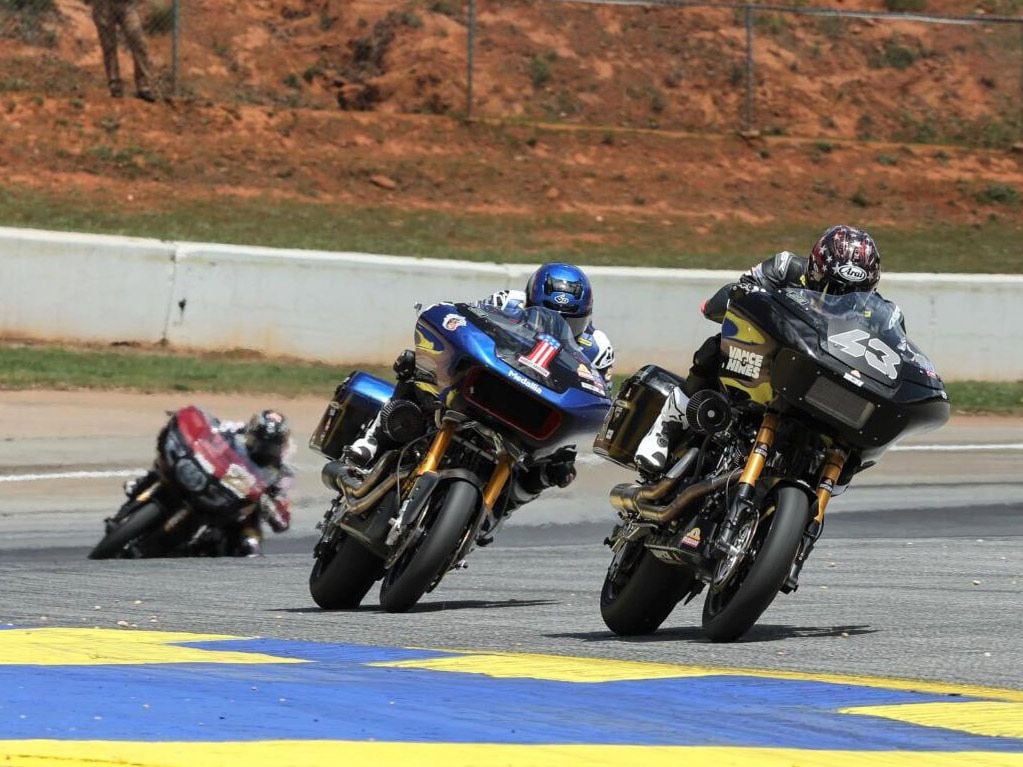 Vance & Hines' James Rispoli, seen here leading in the opening laps, finished second aboard his race-prepped Road Glide. (Brian J. Nelson/MotoAmerica/)
It was an important win for Harley and especially Kyle Wyman, who came off a disappointing showing in Daytona where Indian riders swept the podium in the second race. The Harley versus Indian rivalry continued into this second contest, with Kyle and brother Travis Wyman riding for the Harley-Davidson Screamin' Eagle factory team, again facing off against Indian's S&S-run team consisting of 2022 series runner-up Tyler O'Hara and Jeremy McWilliams. O'Hara managed a third place finish in the race, but the victory catapulted Kyle Wyman into third in the point standings, behind McWilliams, and tied with brother Travis Wyman (both with 41 points). The overall leader in the KOTB standings is still Indian's Tyler O'Hara however, with 61 points.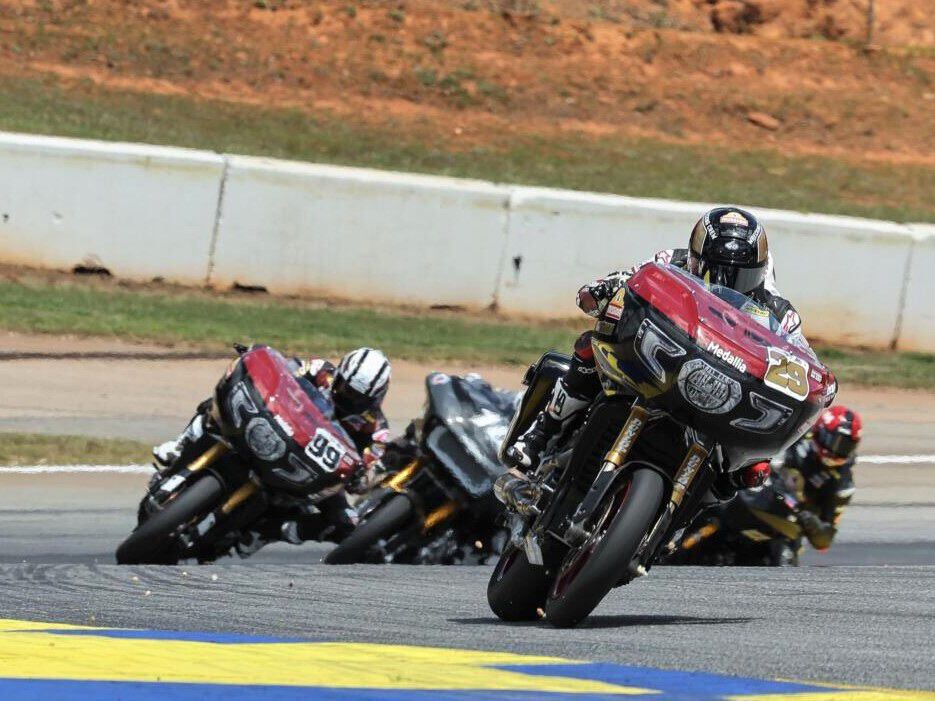 Indian factory rider Tyler O'Hara took third place, but still leads in the points. ( Brian J. Nelson/MotoAmerica/)
"This win definitely feels good," Wyman said following the race. "I'm so happy…for everyone on the Harley-Davidson Screamin' Eagle team. They deserve it so much. They have been working day and night since Daytona to get us here and made some significant improvements to the bike that allowed me to be much more aggressive on the track today. Winning today and having James finish second has really helped us in the points chase."
Related: The King of the Baggers Series Continues to Expand for 2022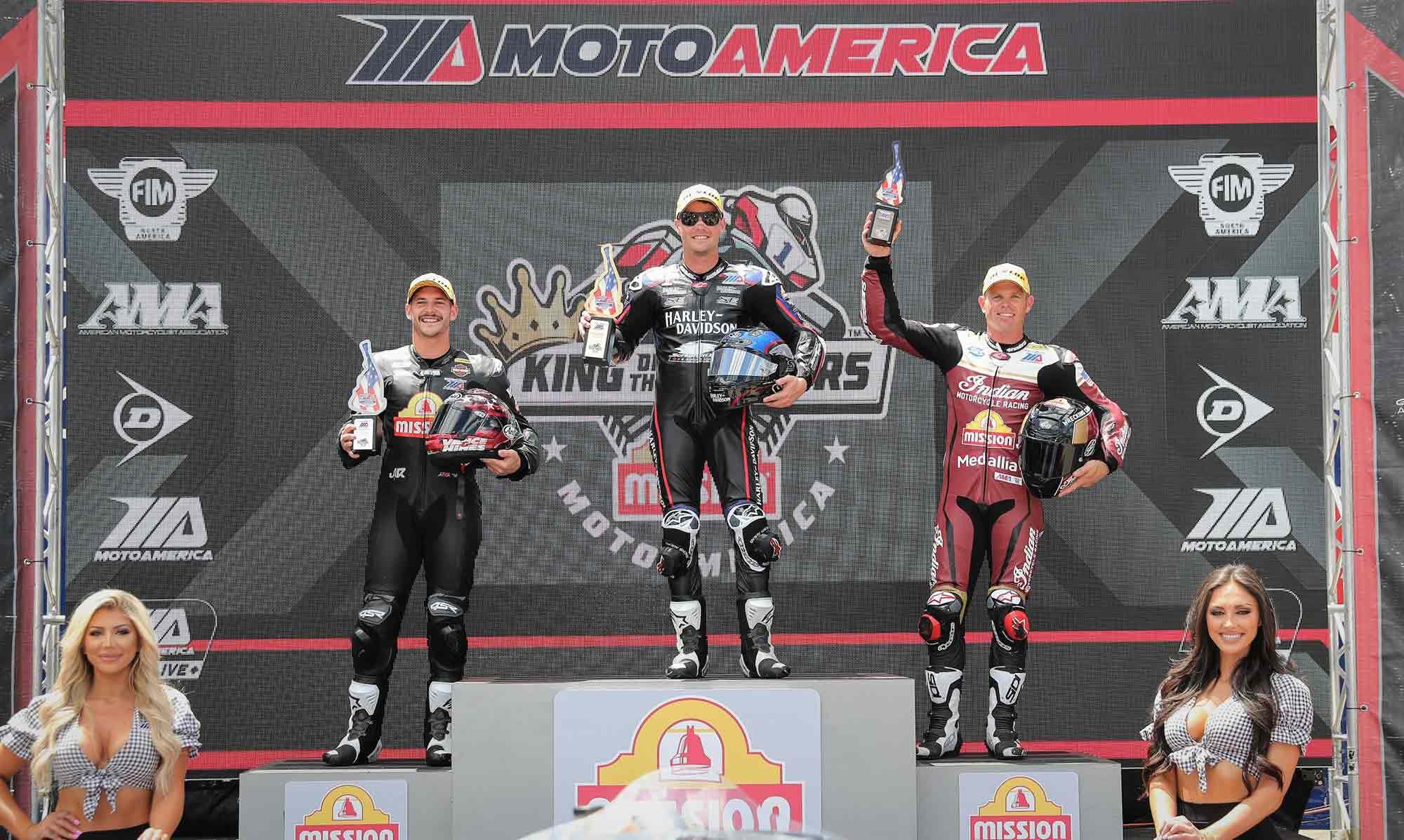 Wyman, Rispoli, and O'Hara celebrate on the podium. (Brian J. Nelson/MotoAmerica/)
In Sunday's main event, Wyman jumped out to third place on the opening lap, trailing Indian rider Bobby Fong and Rispoli. Wyman passed Rispoli for the lead on lap three and then gradually pulled away, opening a large gap by the seventh lap and finishing nearly 2 seconds ahead of Rispoli, averaging more than 100 mph per lap. O'Hara was third on his Indian Challenger, 3.49 seconds behind Wyman. Harley factory rider Travis Wyman meanwhile, finished in sixth place.
The next stop on the King of the Baggers calendar is June 3–5 at the MotoAmerica Superbikes Weekend at Road America raceway in Elkhart Lake, Wisconsin.
The 2022 KOTB point standings are as follows:
| | | | |
| --- | --- | --- | --- |
| 1. | Tyler O'Hara | Indian | 61 |
| 2. | Jeremy McWilliams | Indian | 51 |
| 3. | Kyle Wyman | Harley-Davidson | 41 |
| 4. | Travis Wyman | Harley-Davidson | 41 |
| 5. | James Rispoli | Harley-Davidson | 33 |
MotoAmerica's King of the Baggers Championship series is for race-prepped, American V-twin touring motorcycles fitted with fairing/windscreen and saddlebags.
See motoamerica.com for details.
Source link