Motorbike
Harley Rider Kyle Wyman Takes King of the Baggers Crown
Factory Harley-Davidson rider Kyle Wyman was victorious at Laguna Seca last weekend, winning the MotoAmerica King of the Baggers race. (Brian J. Nelson/)
Yes, this post is way, way late. What can we say, it's been an insanely busy week—so much so that we couldn't even find enough minutes to scribble the final results of the King of the Baggers series, which wrapped up last weekend at Laguna Seca. But it needs to be noted, so: Screamin' Eagle factory rider Kyle Wyman, aboard a race-prepped Harley-Davidson Road Glide Special, won the last race in this edition of the MotoAmerica series, thereby securing enough points to also win the overall championship title of King of the Baggers.
Related: Harley Wins Inaugural Bagger Racing League Event
Even with a recent injury sustained in the Superbike series, Wyman ran away with the last race of the series while also earning the overall King of the Baggers crown. (Brian J. Nelson/)
Spectators expecting a close battle were likely disappointed though, with Wyman handily beating Indian Challenger-mounted Tyler O'Hara by more than 4 seconds on the way to a new class lap record of 1:31.983. For good measure, Wyman also took the holeshot, and led every lap of the race at the 2.238-mile Laguna Seca course, taking full advantage of his bike's Screamin' Eagle Milwaukee-Eight 131R motor.
For Wyman, it had to feel like a redemption of sorts; he had suffered multiple elbow fractures in a Superbike race at Road America only a month ago, and sat out a couple of ensuing Superbike races to focus on the King of the Baggers crown.
Related: Harley Sweeps Round 2 of 2021 King of the Baggers Series
"I just wanted to give one lap of absolutely everything I had and see where that put me, and I saw 'plus one' after the first lap and put my head down again," Wyman said. " I never thought I'd race a Harley again after the XR1200 series, and here we are, King of the Baggers champions."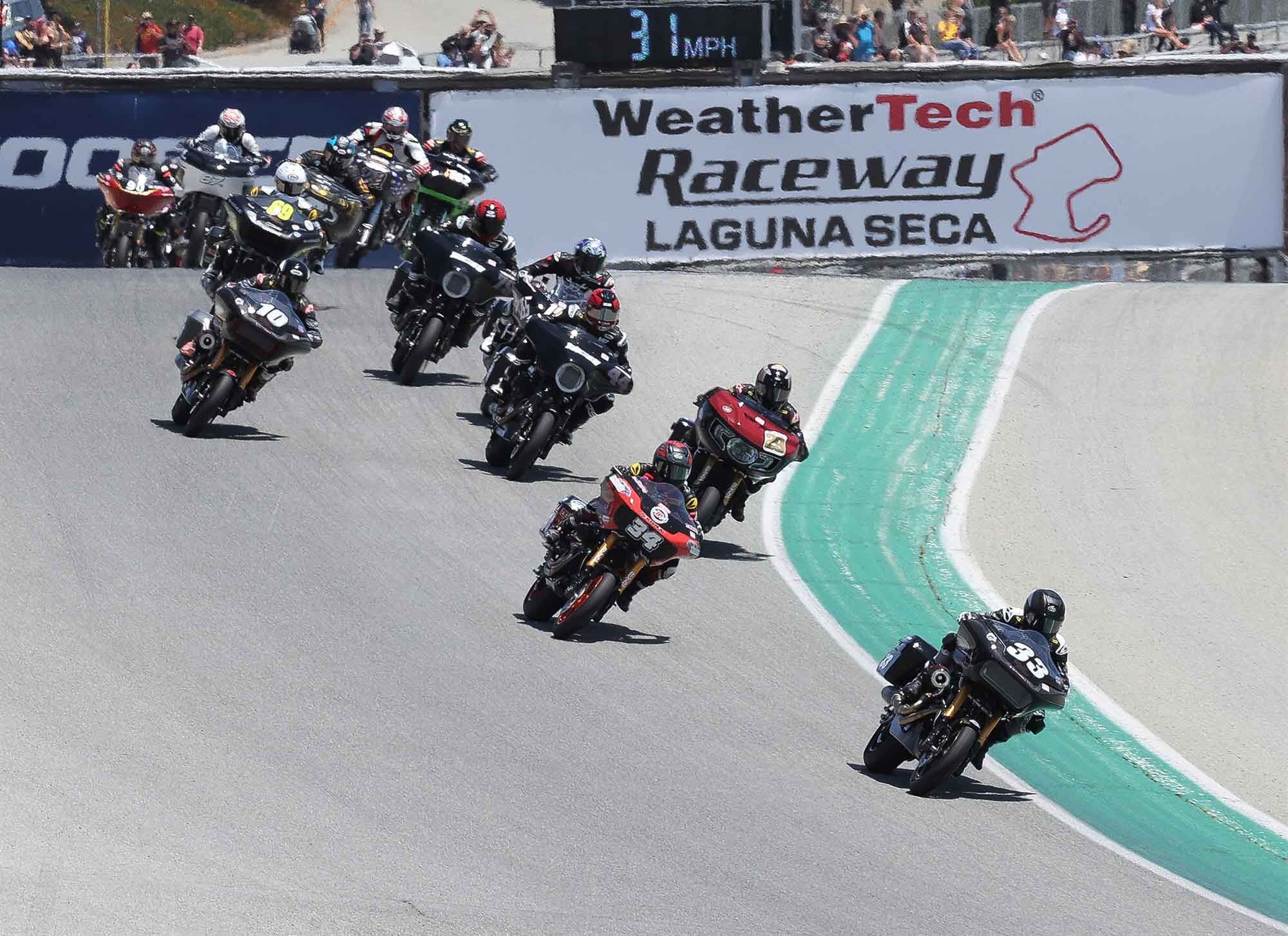 Wyman set a lap record on his Road Glide Special which ran a modified Screamin' Eagle Milwaukee-Eight 131 Performance Crate Engine. (Brian J. Nelson/)
His two wins and a previous second-place finish earned Wyman 70 points in the three-race King of the Baggers series, easily handing him the championship. Indian's O'Hara finished second with 45 points, while Hayden Gillim secured third with 39 points on the Vance & Hines Harley-Davidson Street Glide, just ahead of Frankie Garcia on the RSD Indian Challenger.
Having won last year's inaugural King of the Baggers competition, O'Hara was the odds-on favorite to win this year's series as well. He and Wyman ran close races throughout the ensuing months, but in the end it was Wyman's emphatic final race performance at Laguna Seca that sealed the deal.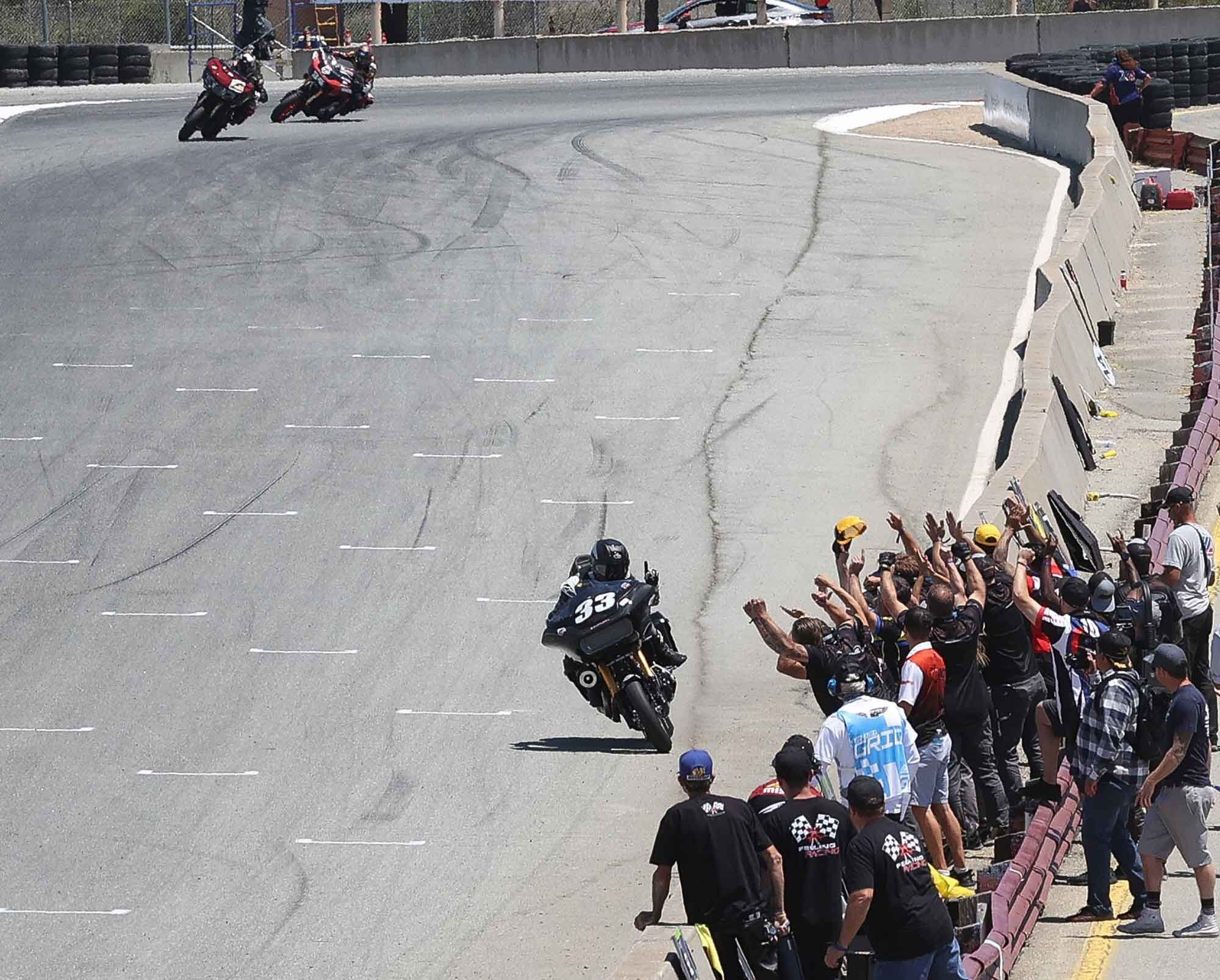 Kyle Wyman celebrates the win with his crew and fans. (Brian J. Nelson/)
As a refresher, the MotoAmerica King of the Baggers series is for race-prepped, American V-Twin touring bikes with a fairing and saddlebags. The series has proven hugely popular with fans this year, and we expect that it—along with the Bagger Racing League's similar format—will continue to expand.
Related: King of the Baggers Race Grows for 2021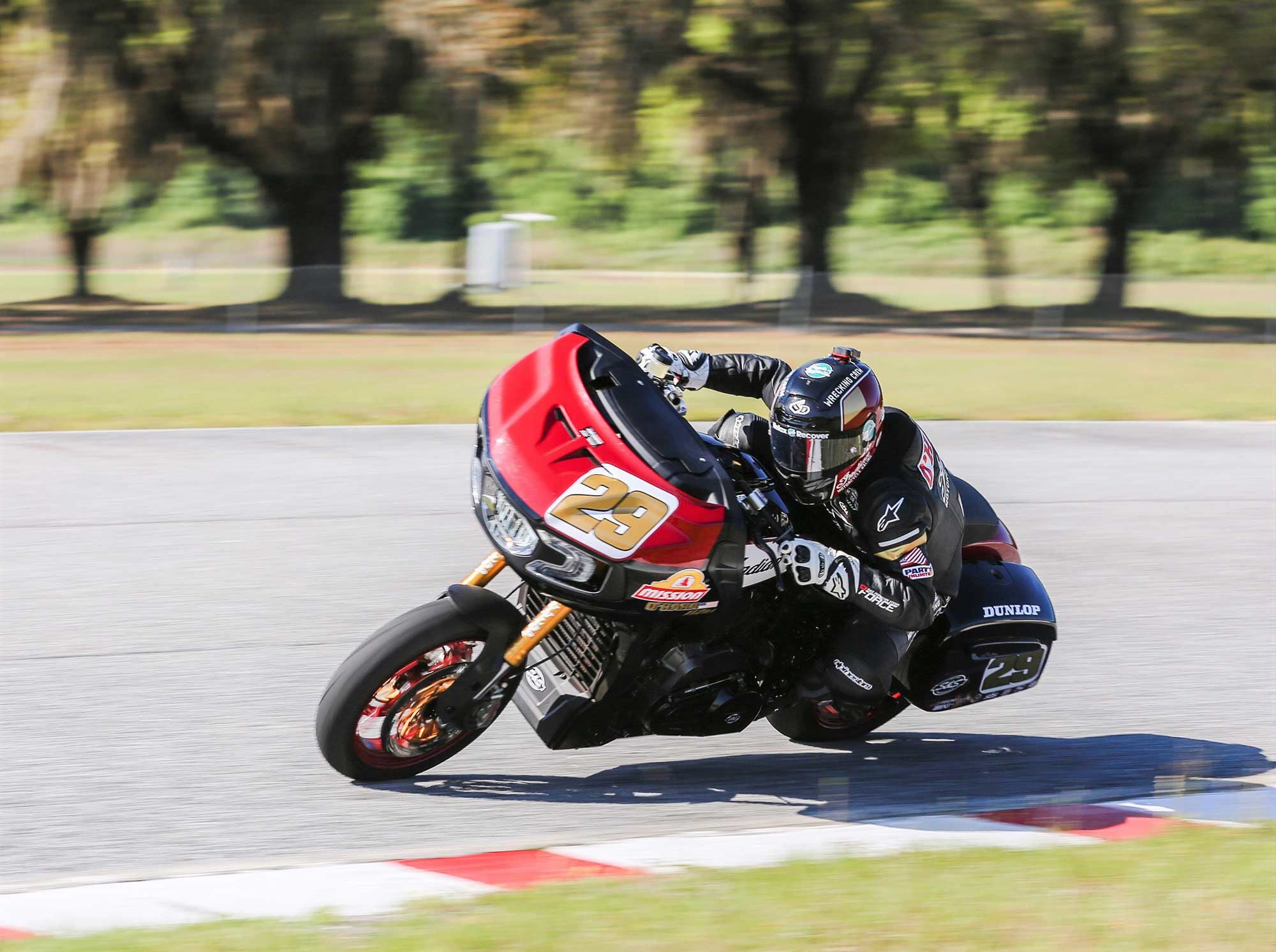 Tyler O'Hara finished second in the race as well as in the overall series points, mounted on an S&S/Indian Motorcycle Challenger. (S&S Cycle/)
King of the Baggers Race Results (final round, Laguna Seca):
1. Kyle Wyman (Screamin' Eagle Harley-Davidson)
2. Tyler O'Hara (S&S Indian)
3. Michael Barnes (Hoban Brothers Racing/DTF Performance Harley-Davidson)
4. Travis Wyman (Screamin' Eagle Harley-Davidson)
5. Ben Bostrom (Feuling Harley-Davidson)
6. Hayden Gillim (Vance & Hines Harley-Davidson)
7. Frankie Garcia (RSD Indian)
8. Patricia Fernandez (Saddlemen Indian)
9. Zack Nation (Zach Nation Racing Harley-Davidson)
10. Eric Stahl (Jiffy Tune Racing Harley-Davidson)
MotoAmerica King of the Baggers Series Final Standings (points):
1. Kyle Wyman, 70 points
2. Tyler O'Hara, 45 points
3. Hayden Gillim, 39 points
4. Frankie Garcia, 36 points
5. Travis Wyman, 33 points
6. Eric Stahl, 25 points
7. John Seuberling, 19 points
8. Danny Eslick, 18 points
9. Zack Nation, 17 points
10. Michael Barnes, 16 points
Source link